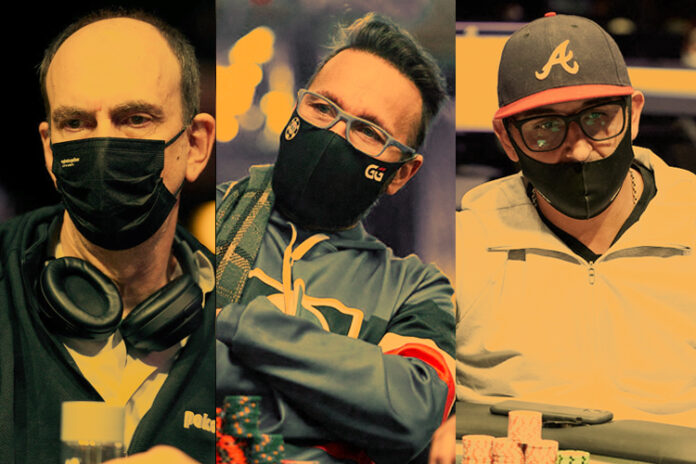 The 2021 World Series of Poker was a wild ride and not just for those players who made the trip to Las Vegas. As the schedule in the series began to wind down, the pressure ramped up for players to close out the fall with a nice score and, for many of those who chose to take the ride by picking up a piece of the action on PocketFives, there were some great gains to be made.
Arieh Shares Sun Run With Supporters
You don't have to look further than newly crowed 2021 WSOP Player of the Year (and PocketFives own) Josh Arieh. Arieh was relentless on the felt and generous in offering pieces of his amazing sun run to his followers.
For example, Arieh put up 5% of his $10,000 Main Event at zero markup. Clearly a favorite against the field, the 50 backers who were able to quickly snap up their .1% (just a mere $10 to get a sweat on) all saw a return of $30 – an ROI of 200% – when he finished in 411th place for $30,000.
He was nowhere near finished. Arieh's run to the POY included two more notable cashes, but the one his backers certainly appreciated was his final table finish in the $50,000 Pot Limit Omaha High Roller. Arieh had crushed every PLO tournament he played in this year, including famously helping some of his backers turn $15 into $2K. Another nice return was in order for the 141 backers who supported him. Arieh sold 10%, again at no markup, and ended up finishing in seventh place for $165,452. That's an ROI of 230.90% with $16,545 headed back to his backers. If every backer had an equal share, that would look like a $35 stake yielding more than $117.
He had another 200+% ROI in the $10K Stud 8 where 43 backers picked up 10% of his action and turned every $10 increment into just over $30 as well.
Fun fact: @golferjosh had 7x top10 finishes over a 31 day stretch this @WSOP

What a player. Well deserved player of the year! Congratulations mate!!#WSOP #playeroftheyear

— Rob Campbell (@robcpoker) November 23, 2021
RELATED: Negreanu, Arieh, and Glantz Help Backers Clean Up In WSOP $50K Poker Players Championship
Seidel Just Hits Home Runs
Erik Seidel was also a home run hitter down the stretch. The nine-time WSOP bracelet winner jumped on PocketFives to sell for just two events late in the schedule. Both times he sold out and both times he came through.
He sold 50% of his action, strictly for the fans, in the same $10K Seven Card Stud 8 where Arieh finished in ninth. Seidel made it to the final table and ended up finishing in 7th place for $46,140. His ROI – 361.40%. Collectively, his 29 backers turned the $5,600 (Seidel sold at 1.12 markup) into $23,070 and every 1% of the stake ($56) turned into $230.
Here's @Erik_Seidel building a stack and giving his backers a sweat in the $10k Stud 8 Championship! pic.twitter.com/7qmBdQDFua

— PocketFives (@PocketFives) November 14, 2021
It worked so well in the Stud 8, Seidel picked up more run good by running it back in the $10K Razz Championship. Again he sold 50% and. again, he made a final table. In back-to-back tournaments, Seidel finished in 7th place and this time cashed out for $39,987. If each of his 35 backers had the same share, they'd have turned $160 into more than $570.
Negreanu's Fantastic Finish
Right up until the last tournament, Daniel Negreanu was challenging Josh Arieh for WSOP Player of the Year. He finished the series second in total cashes with 18 and was selling action all along the way. After his deep run in the $50K Poker Players Championship, Negreanu booked four more cashes, but for backers, his deep run in the $50K Pot Limit Omaha was the most important, and perhaps the most surprising.
In it, Negreanu made the final table and, once again, came so close to winning bracelet #7. Eventually, he bowed out in 3rd place which was good for $519,764 – his largest cash of the series to that point. What did that mean for his backers? An ROI of 939.53%. But here's the crazy part – throughout the entire WSOP, when Negreanu posted a single tournament for sale, it would snap-sell out. But in this one event…he didn't reach his threshold. Guess that's good for Negreanu who enjoys the lion share of that cash but those 39 stakers who did get in on the action also reaped the rewards.
In total, he sold off $5,660 worth of action – at no markup – and that sum turned into ~ $58,837. If every staker had equal action, it would mean that a $145 stake returned $1,508.
That score set him up for his biggest score yet. While he didn't sell action explicitly for the $50,000 NLHE High Roller, this was a critical event for the hundreds of people who were involved in his series-long package. In the event, he made another sick final table run, again nearly locking down a bracelet, but ended up in third place for more than $660,000 and turned his total series package from negative to a huge profit.
WSOP 2021

7 top 10 finishes
18 cashes in 55 events
$1 million in buy ins
$1.4 million in cashes
3rd in Player of the Year.

Exhausted.

See you next year.

Good night.

— Daniel Negreanu (@RealKidPoker) November 23, 2021
With that, the 2021 WSOP and the ride for investors came to an end. But be on the lookout for more from PocketFives Staking as the end is really just the beginning.