The holidays are here and that means it's time, once again, to pick out a few choice items that make for a perfect gift for the poker players in your life.
After the garbage year that was 2020, 2021 proved to be a little bit better and therefore deserving of a better gift guide. So here are a few suggestions of gifts for the poker player in your life that will make these holidays one to remember.
RELATED: The Definitive Poker Player Holiday Gift Guide
Gifts To Get Better
For many poker players, the best gift they can receive is getting real help in getting better at the game. In turn, performing better when playing produces the real results they want and nowadays, there's no shortage of ways to help a poker player improve and they all make for great gifts.
Poker Training Sites
Looking to help someone who really wants to improv? Check out Upswing Poker, Run It Once Poker, Learn Pro Poker, or Daniel Negreanu's Masterclass. All of these will provide important base-layer strategies for improving at poker. All these courses are led by top-tier, well-known coaches and, for the most part, start at less than $100.
For someone who is process-oriented, look first at Negreanu's Masterclass and Upswing Poker. For the player who enjoyed watching non-stop videos, Run It Once and LearnProPoker are packed with content.
Poker Books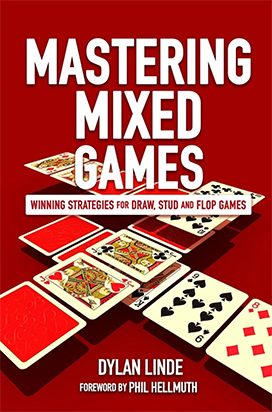 More of an old-school student? D+B Publishing pretty much has the market cornered on poker books. From No Limit Hold'em to Mixed Games, there's a poker strategy book that makes for the perfect gift.
Try any one of Jonathan Little's books including Excelling At No-Limit Hold'em, Exploitative Play in Live Poker by Alexander Fitzgerald, or Mastering Mixed Games by Dylan Linde.
D+B offers many of these titles as audiobooks for those long drives to the card room.
Want to shop outside of D+B? Check out the trio of books by PocketFiver Dara O' Kearney with poker media superstar Barry Carter: Poker Satellite Strategy, PKO Poker Strategy, and Endgame Poker Strategy – all under $20 on Amazon.
Not for nothing, a good non-strategy poker book makes for a great gift as well including Poker Brat by Phil Hellmuth, The Pursuit of Poker Success by Lance Bradley, or The Biggest Bluff by Maria Konnikova.
Poker Apps
For the player who is always on their phone check, a gift card with a recommendation for any of these apps would likely delight:
Dominik Nitsche's DTO Poker Trainer offers a free version that allows players to train by playing hands and it will evaluate your play against GTO standards. There's an upgrade available that allows for more in-depth studying.

The PokerGO app (it's actually a complete website of content) gives you the ability to watch a nearly endless amount of poker content anywhere you go. Perfect for the poker fan who can't get enough of poker on TV. A one-month sub is just $10, a full year can be purchased for $100.
Poker Income Tracker is a good way to see all of the stats that true poker junkies are into including sessions, wins and losses, how one performs at different stakes. This might not make much sense to someone who isn't into poker, but for the player, these stats are the scoreboard of their poker journey.
Gifts To Look Better
In general, poker players aren't known for their style. Oftentimes, whatever clothes are nearest to them when they wake up are what they are showing up to a final table in. But it doesn't have to be that way. Here are a couple upgradable items of essentials for the live poker player.
Poker Vlogger Merch
If you know which poker vlogger is their favorite – grabbing some merch could look like a very thoughtful gift. Hundreds of thousands tune in to the on-the-felt adventures of Brad Owen, and he has signature hoodies and shirts that support his empire available right here. Andrew Neeme's FVRBL apparel offers shirts, hats, hoodies, and more. Maybe grab a pair of Greg Goes All In signature sunglasses for the meme lover in your life or a "Folding Is Boring" shirt courtesy of Rampage Poker.
Hoodies
As cliche as it is, hoodies are essential. If you forgo one from the aforementioned Vlogger collection check out the Rocky Eco-Fleece Zip Hoodie from Alternative Apparel – it's a super lightweight, eco-friendly hoodie that can be worn everywhere, all day.
Or, for those looking for some more Ali Imsirovic vibes, check out the wild designs at Zipy Hoodie to make a greater impact while at the table.
Sunglasses
Sunglasses at the table are a little bit controversial. But for some players, it's the security blanket they need to play their best and keep their opponents guessing. In the past, we've recommended the classic Ray-Ban Original Wayfarers and this year we're sticking with that clean look and picking the Oakley Holbrook design.
It comes in all different colors and lens styles, but there's no doubt that if you pick something other than black-on-black these Red Iridium Lenses would offer that distinctive, memorable look.
Gifts To Be Better
Now let's put it all together. You see, for a poker player, it's playing part that they really want. So, here are a couple of big ideas to get them into the game.
ClubGG Subscription
Some players want to play but don't ever want to lose. Fair enough. ClubGG gets them very close to that. The app allows players to play as much as they want for $50 but the best part is they can qualify for live events including the World Series of Poker. Recently, ClubGG also announced partnerships with the Mid States Poker Tour and the RunGood Poker Tour, offering players even more opportunities to win their way into a big live event for just the monthly payment.
Not for nothing, at the 2021 WSOP, there was also a ClubGG Poker Lounge where free snacks and drinks were available, which was likely worth the price of the app that month alone.
A Trip to the WSOP
Of course, this is the big-ticket item, but no gift guild would be complete without mentioning that it's nearly every poker player's dream to play in the WSOP. But for the uninitiated, one might think that gift is going to cost an unreasonable $10,000 – not realizing that it's a whole series of events and not just the Main Event. But that's not the case, the upcoming WSOP will likely have upwards of 90 live events with the smallest buy-in coming in around $500. Not cheap, but not necessarily going to break the bank.
And with the WSOP moving to The Strip this summer, it's going to be a historic series that would make for an unforgettable experience.