Back in 2009, the youngest player to win the World Series of Poker Main Event triumphed on the biggest stage of all. Beating the logger and amateur poker player Darvin Moon to the title, 21-year-old Joe Cada captured the imagination of the poker world as he won over $8.5 million and the title of world champion.
It was undoubtedly a monumental moment in the career of the now four-time WSOP bracelet winner, but more than that, it was the hand that changed Joe Cada's life.
The Teenage Busboy
A year before the poker world changed and Chris Moneymaker won the WSOP Main Event, Joe Cada lived back in Michigan, where he was brought up and still resides. Aged 14, he was a bus-boy in restaurants, earning $15 an hour with tips. It gave him an early discipline and as the 'super shy kid' grew up, he found poker online.
"I had mental health issues growing up as a teenager," admits Cada. "I was a depressed kid and kept to myself. Poker was my outlet and it really opened me up as a person."
Depositing for the first time, Cada was only allowed to put down $50 on the site. He told his Mom that instead of heading out to parties and drinking, he saw this as his form of entertainment, a budget akin to heading to the cinema.
"It was my $50 and I had a job. I'd started working at a really early age. I asked her to have trust in me that this wasn't going to be a problem. Telling your Mom that you're going to gamble online at a very young age especially when they've seen people go through struggles. I was lucky that my Mom trusted me."
Cada was given the go-ahead to play online and immediately treated poker very seriously. Within six months of that first deposit, he'd turned it into hundreds of thousands.
A Piece of the Action
"If you'd stayed in the league and won, we would have had a piece of you!"
Cada knew he was going to play at the 2009 World Series of Poker when he was 18 years old in 2006 as Jamie Gold scooped up the $12 million top prize. Three years later, the young man had quit his job, moved into his own home and had one question – how much of his own action to take on.
"I had a ton of success on Full Tilt Poker, winning almost every major, and was probably in profit by $550,000-$600,000. That gave notice to 'Johnny Bax', who went through the numbers."
Cliff Josephy, otherwise known as the aforementioned 'Johnny Bax', bought half of Cada's action, but as Cada tells us, he very nearly gave half of his Main Event action away before he even arrived in Vegas.
"My brother's buddy got me to join this league back in 2009. After the first few tournaments, I was overall first. It was a 50/50 split if you won; you played for half of it and the rest of the league split the other 50%. I stopped going and played bigger, it was more a thing to get together with friends. I didn't take the league that seriously. I ended up going out there and winning it! They were a little bitter, like 'If you'd stayed in the league and won, we would have had a piece of you!'"
Everyone around his home town knew of Cada's success at the game and expectations were thought the roof, apart from his own.
"I wasn't as optimistic," he laughs. "I knew what tournaments were like and thought I may win the Main Event one in 1,000 shots."
Cada travelled to Vegas and felt the responsible thing to do was to give back and accept Josephy's offer.
"At the World Series alone, the variance is a lot. I could afford it, but it would have been a big hit. I felt like if I won, what was the difference between $8m and $4m. It was never a concern to me. I always treated poker with a big responsibility and never put my back against the wall."
During the World Series, Cada went out to eat with Josephy and a bunch of other players.
"He singled me out, saying something like 'Hey Joe, you better win something otherwise we're in for a bunch of money, I got the most faith in you of anyone here.' I couldn't believe he said that out loud. I'd been with him a month leading up to that event. He really is a legend."
The Hand That Made Poker History
"I thought he had pocket queens – it was hard to see across the table."
As Cada made his way through to the final table, he took all before him. All except a logger called Darvin Moon.
"Before the final started, he said something I'll never forget. He said he didn't want to take last place, but he didn't want to take first place either. He didn't want the million-dollar sponsorship deal with PokerStars and that resonated me in a way. He didn't want the attention and it felt like he played the heads up like he didn't care if he lost."
Cada had played with Darvin for a few days leading up to that final table. His mental notes were to play very fundamentally and let his opponent make mistakes, not getting too tricky or three-betting light.
Heading into the final duel, Cada was confident of victory. He puts that down to the fortune he'd enjoyed in reaching that stage, combined with his experience with playing heads-up at the time, and the 2:1 chip lead he began the final battle with.
"I couldn't have been more wrong. I played the heads-up match like it was a cheap sit 'n' go and I didn't make the adjustments I would normally make. Starting our match, he outplayed me, bloating the pots real big and putting me in tough spots. Before I knew it, he was a 2:1 chip leader."
Cada fought his way back into contention and before the final hand took place, felt like he had the momentum, having worked a deficit of 2:1 into a similar chip lead. With all the money piled on the table in bricks of dollars, Cada felt Moon wasn't in it to play a long game.
Pre-flop:
Joe Cada:
Darvin Moon:
"When I opened nines on the button and he re-raised me, I thought it was the aggression factor. Nines is a good hand heads-up. I made it 3 million and he made it 8 million. He's playing about 60 million effective. I could call, but nines are very exposed and there could be overcards and you could be guessing. If he folds, he chips down a bunch, I chip up. It's more hand protection."
Darvin Moon was going nowhere and made the call. When he did so, he surprised Cada.
"I thought he was going to fold," he says. "Once he called quickly, I thought he had pocket queens – it was hard to see across the table. It took me a second to realise that he had called with queen-jack. If you wait for a better spot, sometimes you can blind down and never get that shot."
As the famous commentary from Lon McEachern declared: "Phil Hellmuth's record as youngest Main Event champion stood for 19 years. Peter Eastgate's record could be wiped out in one."
Flop:
As the flop fell, Cada jumped out of his seat, and was enveloped by his support group on the rail, with Josephy front and center. Darvin Moon was the polar opposite, stoic in his seat with his gigantic arms folded across his barrel chest. Josephy told Cada 'Relax, relax' as Cada's supporters chanted 'Joey, Joey' around the Thunderdome.
Turn:
Cada was one card away and Josephy told him that he was going to be the 'Main Event champion'. Cada was overwhelmed.
"Poker was my career and that spot was a cumulation of the whole build-up, thinking 'It can be all over, I don't have to stress any more'. But Moon looked the opposite of bothered. "He didn't care. He was so happy, we both were. I didn't like attention but nor did he."
Time seemed to stand still. As Cada's rail leaned closer to the table, the river card confirmed victory.
River:
Sharing an exultant moment in the face of Josephy, Cada's rail jumped towards him, but overcome with relief, Cada pulled away, wanting to speak with Moon instead while his supporters went wild in the stand.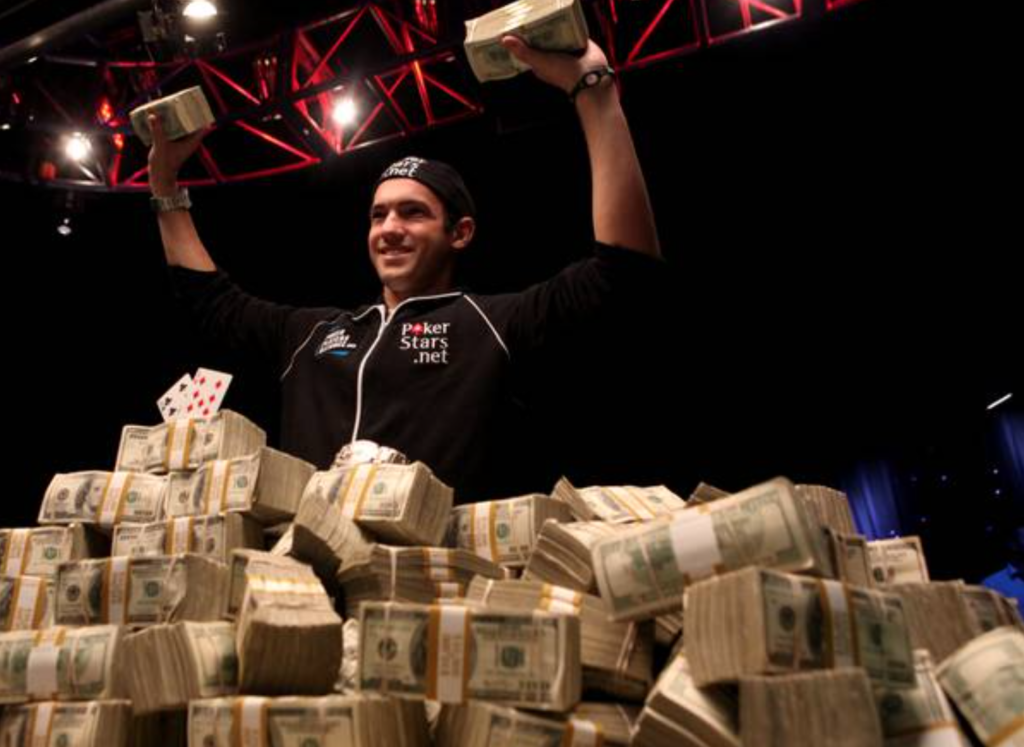 The Late, Great Darvin Moon
"He was a champion in everyone's eyes."
Approaching Moon, Cada embraced him and congratulated him on how he played.
"I felt he deserved to be where he was at." Says Cada of his heads-up opponent in 2009. "It's a tough moment for anyone to come that close. I put myself in his shoes for a second and realised the tournament wasn't all about me or him. I never want to be the person celebrating in someone's face. It's hard not to get excited at that time, but that's not who I was as a person, and I wanted to pay respect to Darvin.
"You played a hell of a match, seriously, all the props in the world." Said Cada to his opponent. Moon hugged him and raised the arm of the new world champion, still the youngest ever to achieve it. Cada let Moon hail his victory, but when his arm was released, grabbed Moon's arm and raised it aloft too. When we ask him why, there is a moment's pause.
"He was a champion in everyone's eyes, so he deserved to have his hand raised too." Says Cada simply.
Moon, tragically, passed away in September 2020 after complications following surgery. He was just 56 years old.
"It's super sad," says Cada. "It's so tragic. I went out with him a few times after the [Main Event]. We did this thing in Pittsburgh for Poker Night in America and after the streamed session, we went out to a Penguins game, got to go out on the ice and went drinking. He was a super friendly, nice guy. It was hard to hear about the surgery and the complications and how awful it was."
After Moon's tragic death, Cada admits to feeling lost at what to do, not knowing the right way to reach out to his family or even knowing how to do so. He felt sad about his one-time opponent's passing and wishes he'd paid his respects at the time.
A Lifetime of Change
"I didn't play poker to get rich, I played it to have fun and compete."
After winning the Main Event, Cada felt that it hindered his ability. Before it, he had worked all hours studying and playing the game. That all changed after November 2009.
"I was battling every day non-stop. After winning it, though, the greatest thing it gave me was a sense of balance. I realized I didn't have to play 90-100 hours a week, I wanted to see the world."
If you asked anyone about Joe Cada before the 2009 Main Event, Cada admits they'd have called him 'The quietest kid in the world'. Now, he is approached by strangers and has spoken about the game on TV.
"From when I was 21 compared to now, I'm a much better poker player, but I don't feel as confident playing the biggest games now. When I was a kid, I was willing to play anyone for any stakes. I don't have that same mindset now. I don't want to risk what I have or get in over my head chasing giant buy-ins. I can play the stakes I like and be comfortable the rest of my life."
Cada regularly takes long breaks from poker, a month or two away from anything to do with the game. But then he'll jump back in and loves the competitive edge the game provides him. While he's played in high roller events, he prefers the social elements that more accessible tournaments provide.
"I love meeting all sorts of different people, and I've always had fun with poker. I've realized that when it stops being fun, I'm not in the right spot. With the WSOP launching online in Michigan, it's really become fun again. That's what poker has always been to me. I didn't play poker to get rich, I played it to have fun and compete."
Cada achieved both when he won the biggest tournament in poker 13 years ago. The World Series has since left the Rio, and this year, thousands more poker players will take on the greatest Main Event in the world at Bally's and Paris on the Las Vegas Strip, many of trying to eclipse Cada as the youngest-ever winner.
Cada says he hopes to spend time in the broadcasting booth this summer and at WSOP events in the future. This year, as every year, however, he'll be back in Vegas playing the tournament where he made his name.
At multiple stages, a young 21-year-old is bound to tell Cada what he once told Peter Eastgate over a decade ago, that his record as the youngest ever winner is going to be beaten 'this year'.
One day, just like it did for Joe Cada in the hand that changed his life back in 2009, that declaration will be transformed into truth.
[embedded content]