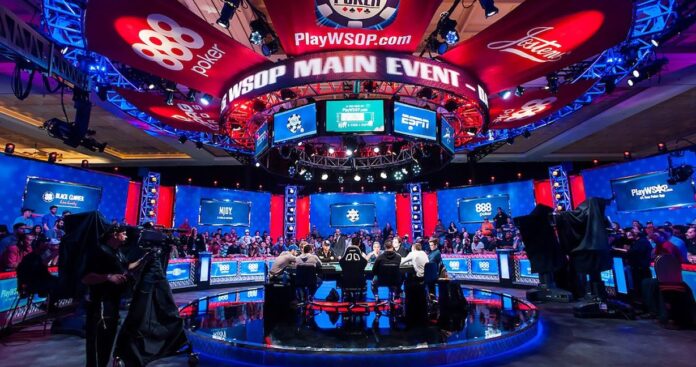 After a one-year hiatus due to the coronavirus pandemic, poker players can finally begin making plans to be in Las Vegas this fall. The World Series of Poker announced the complete 2021 schedule on Tuesday with 88 events running September 30 – November 23.
"Make no mistake, the 2021 WSOP will be the real deal and we're preparing for a full house. Throughout the storied history of the WSOP, this year will be particularly memorable and we're preparing for a poker reunion all players can celebrate," said Ty Stewart, WSOP Executive Director. "We're beyond thrilled to offer a complete schedule of can't-miss events including all our flagships and the variety players deserve."
The Main Event begins on November 4 and has four Day 1 flights to choose from. The event runs until the Main Event Final Table which will play out on Tuesday, November 16 and a winner will be crowned on Wednesday, November 17.
Each weekend throughout the series will feature some of the year's biggest events as marquee WSOP tournaments take center stage. The $1,500 Millionaire Maker (October 8 & 9), $1,500 MONSTER STACK (October 15 & 16), $1,000 Double Stack (October 22), $400 COLOSSUS (October 29 & 30) and $1,500 The Closer (November 19 & 20) each promised to have big fields with large prize pools.
There are plenty of new events on the schedule as well including The Reunion, the $500 opening weekend tournament with three-starting days and a $5 million guaranteed prize pool. The GGPoker $1,000 Flip and Go is played like the online version where players are forced all-in on the first hand with the winner of the table advancing straight into the money as the tournament then plays down as normal. The Poker Hall of Fame Bounty tournament will freeroll any living member of the PHOF into the $1,979 buy-in event and have a bounty on their heads the same as the year they were inducted.
High rollers are also well represented with 15 Championship events with a buy-in of $10,000 or more including the $25,000 Heads Up No Limit Championship (October 5) and the $50,000 Poker Players Championship (October 31). In addition to the Championship events, there is a $250,000 Super High Roller (November 18), a $100,000 High Roller (November 21) and six other events with a buy-in of $25,000 or more.
Other highlights of the schedule include weekly "Old School Freezouts" as a variety of buy-in, the return of fan-favorites including the $1,000 Tag Team, $1,000 Mini Main Event, $1,111 Little One for One Drop, and the $888 Crazy Eights.
The Ladies Championship takes place on October 11 and the always popular Seniors Championship has been given two starting flights (October 27-28) and allows for a single re-entry per flight.
"We could not be more excited to welcome everyone back to Las Vegas and the Rio," said WSOP Vice President and Tournament Director, Jack Effel. "The entire WSOP team is hard at work to ensure players have the absolute best experience possible."
Complete Schedule of Events
| Date | Event # | Tournament | Buy-In |
| --- | --- | --- | --- |
| 09-30 | 1 | Casino Employees No-Limit Hold'em | $500 |
| 09-30 | 2 | H.O.R.S.E. | $25,000 |
| 09-30 | 3 | Covid-19 Relief No-Limit Hold'em Charity Event | $1,000 |
| 10-01 | 4A | The Reunion No-Limit Holdem$5,000,000 Guaranteed Prize Pool | $500 |
| 10-01 | 5 | Omaha Hi-Lo 8 or Better | $1,500 |
| 10-02 | 6 | High Roller No-Limit Hold'em 8-Handed | $25,000 |
| 10-03 | 7 | Dealers Choice 6-Handed | $1,500 |
| 10-04 | 8 | No-Limit Hold'em Deepstack | $600 |
| 10-04 | 9 | Omaha Hi-Lo 8 or Better Championship | $10,000 |
| 10-05 | 10 | Super Turbo Bounty No-Limit Hold'em (freezeout) | $1,000 |
| 10-05 | 11 | Heads Up No-Limit Hold'em Championship | $25,000 |
| 10-05 | 12 | Limit Hold'em | $1,500 |
| 10-06 | 13 | Freezeout No-Limit Hold'em | $3,000 |
| 10-06 | 14 | Seven Card Stud | $1,500 |
| 10-07 | 15 | 6-Handed No-Limit Hold'em | $1,500 |
| 10-07 | 16 | Limit Hold'em Championship | $10,000 |
| 10-08 | 17A | MILLIONAIRE MAKER No-Limit Hold'em | $1,500 |
| 10-08 | 18 | Mixed Triple Draw Lowball (Limit) | $2,500 |
| 10-09 | 17B | MILLIONAIRE MAKER No-Limit Hold'em | $1,500 |
| 10-09 | 19 | Seven Card Stud Championship | $10,000 |
| 10-10 | 20A | Flip & Go No Limit Hold'em Presented by GGPoker | $1,000 |
| 10-10 | 21 | Mixed: Pot-Limit Omaha Hi-Lo 8 or Better; Omaha Hi Lo 8 or Better; Big O | $1,500 |
| 10-10 | 20B | Flip & Go No Limit Hold'em Presented by GGPoker | $1,000 |
| 10-11 | 22 | LADIES No-Limit Hold'em Championship | $10,000 |
| 10-11 | 23 | Eight Game Mix 6-Handed | $1,500 |
| 10-12 | 24 | Pot-Limit Omaha Deepstack (8-Handed) | $600 |
| 10-12 | 25 | 6-Handed No-Limit Hold'em | $5,000 |
| 10-13 | 26 | Freezeout No-Limit Holdem | $1,000 |
| 10-13 | 27 | H.O.R.S.E. | $1,500 |
| 10-14 | 28 | Pot-Limit Omaha 8-Handed | $1,000 |
| 10-14 | 29 | Short Deck No-Limit Hold'em | $10,000 |
| 10-15 | 30A | MONSTER STACK No-Limit Hold'em (freezeout) | $1,500 |
| 10-15 | 31 | No-Limit 2-7 Lowball Draw | $1,500 |
| 10-16 | 30B | MONSTER STACK No-Limit Hold'em | $1,500 |
| 10-16 | 32 | H.O.R.S.E. | $3,000 |
| 10-17 | 33 | 8-Handed No-Limit Hold'em Deepstack | $800 |
| 10-17 | 34 | Limit 2-7 Lowball Triple Draw | $1,500 |
| 10-18 | 35 | Freezeout No-Limit Holdem | $500 |
| 10-18 | 36 | Dealers Choice 6-Handed Championship | $10,000 |
| 10-19 | 37 | Super Turbo Bounty No-Limit Hold'em (freezeout) | $1,500 |
| 10-19 | 38 | High Roller No-Limit Hold'em 8-Handed | $50,000 |
| 10-20 | 39 | Pot-Limit Omaha (8-Handed) | $1,500 |
| 10-20 | 40 | H.O.R.S.E. Championship | $10,000 |
| 10-21 | 41 | Freezeout No-Limit Hold'em | $2,500 |
| 10-21 | 42 | Razz | $1,500 |
| 10-22 | 43A | DOUBLE STACK No-Limit Hold'em | $1,000 |
| 10-22 | 44 | 6-Handed Limit Hold'em | $3,000 |
| 10-23 | 45 | Pot-Limit Omaha 8-Handed Championship | $10,000 |
| 10-24 | 46 | No-Limit Hold'em Deepstack | $800 |
| 10-24 | 47 | Freezeout No-Limit Hold'em 8-Handed | $5,000 |
| 10-25 | 48 | SHOOTOUT No-Limit Hold'em | $1,500 |
| 10-25 | 48 | SHOOTOUT No-Limit Hold'em | $1,500 |
| 10-25 | 49 | No-Limit 2-7 Lowball Draw Championship | $10,000 |
| 10-26 | 50 | Mixed No-Limit Hold'em/Pot-Limit Omaha Deepstack 8-Handed | $600 |
| 10-26 | 51 | 6-Handed No-Limit Hold'em | $3,000 |
| 10-27 | 52A | SENIORS No-Limit Hold'em Championship | $1,000 |
| 10-27 | 53 | High Roller Pot-Limit Omaha (8-Handed) | $25,000 |
| 10-28 | 52B | SENIORS No-Limit Hold'em Championship | $1,000 |
| 10-28 | 54 | Nine Game Mix 6-Handed | $2,500 |
| 10-29 | 55A | COLOSSUS No-Limit Hold'em | $400 |
| 10-29 | 56 | 6-Handed No-Limit Hold'em Championship | $10,000 |
| 10-30 | 55B | COLOSSUS No-Limit Hold'em | $400 |
| 10-30 | 57 | Limit 2-7 Lowball Triple Draw Championship | $10,000 |
| 10-31 | 58 | SUPER SENIORS No-Limit Hold'em | $1,000 |
| 10-31 | 59 | TAG TEAM No-Limit Hold'em | $1,000 |
| 10-31 | 60 | Poker Players Championship 6-Handed | $50,000 |
| 11-01 | 61 | Deepstack Championship No-Limit Hold'em | $600 |
| 11-01 | 62 | Pot-Limit Omaha Hi-Lo 8 or Better (8-Handed) | $1,500 |
| 11-02 | 63 | SALUTE to Warriors – No-Limit Hold'em | $500 |
| 11-02 | 64 | Mixed No-Limit Hold'em; Pot-Limit Omaha (8-Handed) | $5,000 |
| 11-03 | 65 | MINI Main Event No-Limit Hold'em (freezeout) | $1,000 |
| 11-03 | 66 | Pot-Limit Omaha Hi-Lo 8 or Better Championship (8-Handed) | $10,000 |
| 11-04 | 67A | MAIN EVENT No-Limit Hold'em World Championship – Day 1A | $10,000 |
| 11-05 | 67B | MAIN EVENT No-Limit Hold'em World Championship – Day 1B | $10,000 |
| 11-06 | 67C | MAIN EVENT No-Limit Hold'em World Championship – Day 1C | $10,000 |
| 11-07 | 67D | MAIN EVENT No-Limit Hold'em World Championship – Day 1D | $10,000 |
| 11-08 | 68A | LITTLE ONE FOR ONE DROP No-Limit Hold'em | $1,111 |
| 11-09 | 68B | LITTLE ONE FOR ONE DROP No-Limit Hold'em | $1,111 |
| 11-10 | 68C | LITTLE ONE FOR ONE DROP No-Limit Hold'em | $1,111 |
| 11-10 | 69 | Seven Card Stud Hi-Lo 8 or Better | $1,500 |
| 11-11 | 70A | CRAZY EIGHTS No-Limit Hold'em 8-Handed | $888 |
| 11-11 | 71 | BOUNTY Pot-Limit Omaha 8-Handed | $1,500 |
| 11-12 | 70B | CRAZY EIGHTS No-Limit Hold'em 8-Handed | $888 |
| 11-12 | 72 | Mixed No-Limit Hold'em; Pot-Limit Omaha (8-Handed) | $1,500 |
| 11-13 | 70C | CRAZY EIGHTS No-Limit Hold'em 8-Handed | $888 |
| 11-13 | 73 | Seven Card Stud Hi-Lo 8 or Better Championship | $10,000 |
| 11-14 | 70D | CRAZY EIGHTS No-Limit Hold'em 8-Handed | $888 |
| 11-14 | 74 | Mixed Big Bet Event | $2,500 |
| 11-15 | 75 | Freezeout No-Limit Holdem | $1,500 |
| 11-15 | 76 | Super Turbo Bounty No-Limit Hold'em (freezeout) | $10,000 |
| 11-16 | 77 | FIFTY STACK No-Limit Hold'em | $1,500 |
| 11-16 | 78 | Razz Championship | $10,000 |
| 11-17 | 79 | Poker Hall of Fame Bounty No-Limit Hold'em (freezeout) | $1,979 |
| 11-17 | 80 | 6-Handed Pot-Limit Omaha | $3,000 |
| 11-18 | 81 | No-Limit Hold'em Deepstack | $800 |
| 11-18 | 82 | Super High Roller No-Limit Hold'em | $250,000 |
| 11-19 | 83A | The Closer – No-Limit Hold'em | $1,500 |
| 11-19 | 84 | HIGH ROLLER Pot-Limit Omaha | $50,000 |
| 11-20 | 83B | The Closer – No-Limit Hold'em | $1,500 |
| 11-20 | 85 | HIGH ROLLER No-Limit Hold'em | $50,000 |
| 11-21 | 86 | Super Turbo No-Limit Hold'em | $1,000 |
| 11-21 | 87 | HIGH ROLLER No-Limit Hold'em | $100,000 |
| 11-22 | 88 | 8-Handed No-Limit Hold'em | $5,000 |
Championship Events
| Date | Event # | Tournament | Buy-In |
| --- | --- | --- | --- |
| 10-04 | 9 | Omaha Hi-Lo 8 or Better Championship | $10,000 |
| 10-05 | 11 | Heads Up No-Limit Hold'em Championship | $25,000 |
| 10-07 | 16 | Limit Hold'em Championship | $10,000 |
| 10-09 | 19 | Seven Card Stud Championship | $10,000 |
| 10-11 | 22 | LADIES No-Limit Hold'em Championship | $10,000 |
| 10-18 | 36 | Dealers Choice 6-Handed Championship | $10,000 |
| 10-20 | 40 | H.O.R.S.E. Championship | $10,000 |
| 10-23 | 45 | Pot-Limit Omaha 8-Handed Championship | $10,000 |
| 10-25 | 49 | No-Limit 2-7 Lowball Draw Championship | $10,000 |
| 10-27 | 52A | SENIORS No-Limit Hold'em Championship | $1,000 |
| 10-28 | 52B | SENIORS No-Limit Hold'em Championship | $1,000 |
| 10-29 | 56 | 6-Handed No-Limit Hold'em Championship | $10,000 |
| 10-30 | 57 | Limit 2-7 Lowball Triple Draw Championship | $10,000 |
| 10-31 | 60 | Poker Players Championship 6-Handed | $50,000 |
| 11-01 | 61 | Deepstack Championship No-Limit Hold'em | $600 |
| 11-03 | 66 | Pot-Limit Omaha Hi-Lo 8 or Better Championship (8-Handed) | $10,000 |
| 11-04 | 67A | MAIN EVENT No-Limit Hold'em World Championship – Day 1A | $10,000 |
| 11-05 | 67B | MAIN EVENT No-Limit Hold'em World Championship – Day 1B | $10,000 |
| 11-06 | 67C | MAIN EVENT No-Limit Hold'em World Championship – Day 1C | $10,000 |
| 11-07 | 67D | MAIN EVENT No-Limit Hold'em World Championship – Day 1D | $10,000 |
| 11-13 | 73 | Seven Card Stud Hi-Lo 8 or Better Championship | $10,000 |
| 11-16 | 78 | Razz Championship | $10,000 |