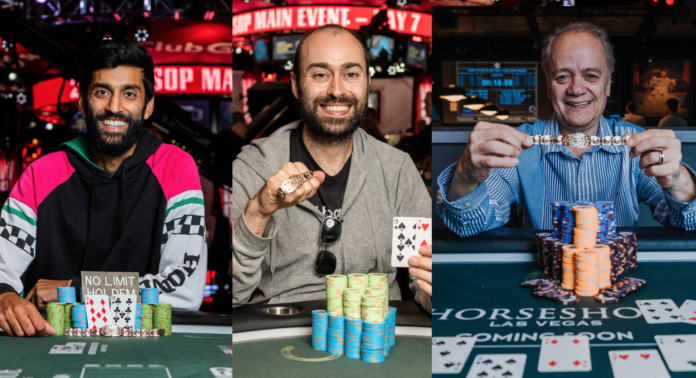 The WSOP Main Event reached the final table of ten players, with everyone remaining now just nine eliminations away from the top prize of $10 million. In seven other bracelet events, three events were taken down, with two new winners and one repeat winner claiming gold.
Tension, Excitement and Disbelief as Epic Main Event Reaches Final Table of Ten!
An unprecedented situation arose in Las Vegas, as the final table of ten instead of nine was reached for the first time as play ended at shortly before 7am in Las Vegas. With 35 players starting the day, the final table of nine was not reached in the traditional manner as 10 players remained at the close of play with the hour approaching 7.00 am local time.
Players had been at the felt for 17 hours, as early eliminations featured short-stacked Marco Johnson (35th)) l the previously dominant Adam Demersseman (30th) and the 2020 Hybrid Main Event winner Damian Salas, whose defeat in 27th place saw his astonishing run in recent years ended just a short time before the closing stages started to play out.
A new Main Event champion will emerge with the elimination of Damian Salas in 27th place.

It's another impressive run for the Argentinian, who now has finishes of 27th, 7th, and 1st in the Main Event.

He'll take home $262,300 for his finish in 2022. pic.twitter.com/LimasdZ2Oo

— PokerGO (@PokerGO) July 14, 2022
Once the remaining two dozen players began to battle for supremacy, however, it became clear that with no big chip leader and everything on the line, it was going to take some time. That was an understatement.
On what became one of the longest days in WSOP history, Brian Kim busted in 23rd place, and he was joined by Aaron Mermelstein three places later. Two after that, the longest-lasting female player in the Main Event – the superb Efthymia Litsou – lost her stack in 18th place for $323,100 when she ran ace-ten into pocket kings belonging to Espen Jorstad.
An amazing run ends for Efthymia Litsou in 18th place in the 2022 @WSOP Main Event.

After 7 days of poker, Litsou takes home $323,100 and falls just short of making poker history.

A great run and an amazing showing, proving herself to be a force to be reckoned with. pic.twitter.com/cVl0j3w1TM

— PokerGO (@PokerGO) July 14, 2022
The Tag Team bracelet winner from earlier in the series was chip leader and continued in that role for much of the final table.
After Kenny Tran lost his seat in 17th place, David Diaz made one of the folds of the entire series when he laid down a full house on the river to a better full house.
For poker players, the Main Event is truly a test of skill and endurance.

David Diaz, finding an incredible fold with queens full, shows that the players who have made it this far in the tournament are truly at the top of their game.

This is what the Main Event is all about. pic.twitter.com/mz38SljBzy

— PokerGO (@PokerGO) July 14, 2022
He deserved better than to bust a few places later in 13th but bust he did. And the final dozen saw short stacks double for some time. Vadim Rozin exited in 12th with
beaten Aaron Duczak's
, a board of [Qs[
played down to one Canadian busting the other.
Robert Welch left in 11th place when his
lost to Jorstad's
as a board of
saw the Norwegian grab a share of the chip lead. Upon that elimination, the tournament directors announced that the day was over and that for the first time in history, 10 players would meet at the final table instead of nine, with players almost delirious with a combination of happiness and relief.
In just a couple of days' time, the 'unofficial' final table will begin with ten instead of the official nine. Only one man can win, and that prize of $10 million is now closer than ever to the hopefuls looking to become this year's WSOP World champion.
WSOP 2022 Event #70 $10,000 Main Event Final Table Chipcounts:
Matthew Su – 83,200,000
Espen Jorstad – 83,200,000
Matija Dobric – 68,650,000
Aaran Duczak – 56,000,000
John Eames – 54,950,000
Adrian Attenborough – 50,800,000
Michael Duek – 49,775,000
Jeffrey Farnes – 35,350,000
Asher Conniff – 29,400,000
Philippe Souki – 13,500,000
Riess Loses Heads Up After Epic Battle for Bracelet
Ryan Riess fell just short of his second WSOP bracelet victory after Mike Allis claimed his debut win at the end of an epic three-hour battle for the gold. Three men returned to the felt for the final day of action in the event and Riess initially got off to the best start possible by busting Basel Chaura in third place for $250,157.
Chaura was all-in and at risk with
, Riess calling the three-bet shove with
. The flop of
looked ideal for Riess, but the
on the turn was anything but, flipping the script to put Chaura ahead. The
river initially left both players wondering for a beat, but pretty quickly, they both realized that Chaura's rivered two-pair had been overtaken by Riess' backdoor flush, and the battle for gold was down to two men.
Heads up play took some time, with three hours required to find a winner. During that time, both men had the lead, but eventually, Riess called all-in with
and was right to do so, with the stacks shallow and only 12 big blinds represented by his 48 million chips to Allis' 180 million. Allis had been bluffing with
but Riess couldn't get the double-up as the board ran out with an incredible rivered straight for Allis, coming
to deny Riess the chance of a second gold bracelet and afford Allis that honor for the first time.
WSOP 2022 Event #71 One More for One Drop Final Table Results:
Mike Allis – $535,610
Ryan Riess – $331,056
Basel Chaura – $250,157
Mohammed Jaafar – $190,363
Leonardo De Souza – $145,892
Salah Nimer – $112,612
Andrew Robinson – $87,551
Rio Fujita – $68,562
Niklas Warlich – $54,085
Boris Akopov – $42,980
Pulusani Claims Comeback Victory for Second Bracelet
Sandepp Pulusani heralded a second bracelet win as he overcame a final table where he began as a short stack to win $277,949 and gold in front of friends and family at Bally's on Wednesday night. With eight players coming back to the action, the play was fast in both Pot Limit Omaha and No Limit Hold'em, with William Leffingwell busting first in PLO for $30,129 in eighth place.
Next to go was Vegard Andreassen, the Norwegian busting in seventh place for $39,114. One of the most experienced players at the table followed him from the felt as Noah Bronstein busted in sixth for $51,372 after shoving with
in no limit hold'em, called by Vincent Lam with
and overtaken on the board of
to bust.
With five players left, Pulusani was climbing and scored a great pot in a three-way all-in, rivering the nut flush when all-in with
against Richard Kellett's
and Aden Salazar's
. The board of [Jh[
saw Kellett bust for $68,274 and Salazar take a huge hit to his stack.
Vincent Lam left in fourth place for $91,800, busting in PLO to Salazar as the overnight chip leader battled to re-establish his supremacy. Taking a big lead three-handed, Salazar couldn't hold onto that chip advantage, however, as a topsy-turvy three-handed battle eventually left him on the rail for $124,864.
Heads-up saw Pulusani take on Esther Taylor, who had taken out Salazar to move to within one double of the lead. Taylor would slip behind before rallying further to survive with a double-up, but eventually, her time was up. All-in with
against Pulusani's
, Taylor would hit her queen on the board of
, but it only gave Pulusani the straight and confirmed his second WSOP bracelet.
WSOP 2022 Event #77 $1,500 Mixed NLHE/PLO Final Table Results:
Sandeep Pulusani – $277,949
Esther Taylor – $171,787
Aden Salazar – $124,864
Vincent Lam – $91,800
Richard Kellett – $68,274
Noah Bronstein – $51,372
Vegard Andreassen – $39,114
William Leffingwell – $30,129
Allen Cunningham Chasing Sixth Bracelet From Short Stack
The $777-entry Lucky 7's final day has been reached and the five-time WSOP bracelet winner Allen Cunningham is the only player left in the field who has previously won gold at the World Series. With nine players making the final day, Cunningham will have to do it the hard way if he wants to make it six wins, however, as he will start the last showdown with 13 big blinds and a dream.
Top of the chipcounts is Christopher Farmer, who bagged up 77.4 million chips, some way clear of Rodney Turvin (58 million), with everyone else from Kyle Miholich (31.7 million) and below having less than half of the chip leader's massive stack. Cunningham has just over 13 million to play with so will need help early, but after seeing off the challenge of 276 other players on a frantic Day 2, will have no fear in playing for his sixth bracelet and a top prize of $777,777.
Players to bust on the day included Ismael Bojang (136th), Calvin Anderson (120th), Cherish Andrews (95th) and Martins Adeniya (49th), with the nine players who remain still at separate tables as the final day kicks off. All the chips are on one table, too, with both the top two stacks sitting next to each other and Cunningham not at that table, so expect an early scrap for chips to make the final table.
WSOP 2022 Event #75 $777 Lucky 7's NLHE Final Table Results:
Christopher Farmer – 77,400,000
Rodney Turvin – 58,000,000
Kyle Miholich – 31,700,000
Jed Stewart – 25,700,000
Braxton Moore – 20,800,000
Gregory Teboul – 19,700,000
James Hughes – 19,600,000
Allen Cunningham – 13,200,000
Paul De La Soujeole – 13,100,000
Aube Claims First Bracelet After House Wins
Event #78, the $2,500-entry NLHE event was won by Canadian player Sebastian Aube, as he claimed the $499,636 top prize after an exciting, fast-paced final table. The day began with 22 players, but after some high-profile eliminations such as Kenny Hallaert (22nd), the final day chip leader David Miscikowski (13th) and Brien Lee in 10th place, nine players battled down to a winner with Aube leading the final table field.
Jonathan Zarin lost a big flip to bust in ninth place, his
losing to Brian Etheridge's
after a painful run-out of [s]
saw the latter hit Broadway in a runner-runner straight turn and river. Ran Koller left in eighth for $52,240 and he was followed from the felt by Solve for Why's Matt Berkey, who cashed for $68,102 when his
couldn't hit against Aube's
as a ten on the river even gave the eventual winner a set.
After Berkey's exit, the field raced to the business end of the event, with Julien Loire making the heads-up battle with a slight deficit of 20 million against Aube's 27 million. Aube managed to seal the deal shortly after winning with a better kicker against the same two pair as Loire.
Around 4:1 up in chips, called from the big blind with
. On the flop of
, Loire checked with
and so too did Aube. The
turn saw a small bet from Aube called by his opponent, while the river
saw all the chips piled in, Loire hitting his straight but Aube catching a full house with the same card. Aube's shove was called to his own doom by Loire and the latest bracelet of the 2022 WSOP was won.
WSOP 2022 Event #78 $2,500 NLHE Final Table Results:
Sebastien Aube – $499,636
Julien Loire – $308,817
Brian Keith Etheridge – $222,762
Axel Hallay – $162,627
Leandro Vlastaris – $120,177
Santiago Plante – $89,905
Matt Berkey – $68,102
Ran Koller – $52,240
Jonathan Zarin – $40,588
Shack-Harris Leads Field of Stars in Razz Championship
Only 13 players remain in the $10,000-entry Razz Championship, with Brandon Shack-Harris leading a number of former bracelet winners in the hunt for more gold in tomorrow's final day. With 1,152,000 chips, Shack-Harris is only a tiny amount clear of Brian Hastings, who will be going for what would be a seventh WSOP bracelet if he can take the tournament down.
It is one of the toughest, if not the toughest final days full of players in this year's World Series, with Julien Martini (873,000), Max Pescatori (724,000), Chance Kornuth (707,000), Joao Vieira (677,000), Koray Aldemir (480,000) and David Benyamine (362,000) all hunting further bracelets in their glittering careers.
Other potential winners included first-timers such as Ziya Rahim (611,000) and Felipe Ramos (413,000) both looking to win their first bracelets.
WSOP 2022 Event #79 $10,000 Razz Championship Top 10 Chipcounts:
Brandon Shack-Harris – 1,152,000
Brian Hastings – 1,149,000
Julien Martini – 873,000
Yueqi Zhu – 749,000
Max Pescatori – 724,000
Chance Kornuth – 707,000
Joao Vieira – 677,000
Ziya Rahim – 611,000
Koray Aldemir – 480,000
Felipe Ramos – 413,000
Two Other Bracelets Events in Action
Two other WSOP events enjoyed busy Day 1s as a strong attendance record at this year's series continued in Las Vegas. In Event #80, Jorge Briones bagged the biggest stack with over 2.5 million chips, marginally clear of John Dollinger on 2.13m behind him. No-one ended the first day of the $600-entry Mixed PLO/NLHE Event with over 2 million chips, but some strong names made 76 survivors from over 2,100 entries.
Those include but aren't limited to the current Player of the Year leader Daniel Zack (1,295,000), Josue Aguiree (1,095,000), four-time bracelet winner Asi Moshe (880,000) and the former Poker Players Championship winner Phil Hui (280,000).
WSOP 2022 Event #80 $600 Mixed NLHE/PLO Top 10 Chipcounts:
Jorge Briones – 2,585,000
John Dollinger – 2,135,000
Dror Ramaty – 1,965,000
Giuseppi Maggisano – 1,900,000
Justin Barnum – 1,815,000
Florian Ribouchon – 1,800,000
Nipun Java – 1,775,000
Jonathan Dimmig – 1,710,000
Jordan Russell – 1,580,000
Quentin Roussey – 1,380,000
In Event #81, the final event of the night to close saw Mark Davies bag the chip lead after a dominant display ended with his stack of 1,127,000 clear in the lead. Davies is some way clear of Yuki Kashihara (829,000) in the $5,000-entry Freezeout event, with Tony Bracy (704,000) the only other player above 700,000 chips. There were top 10 stacks for Kitty Kuo (580,000) and Terence Etim (524,000), with Cliff Josephy (419,000) and Anthony Spinella (412,000) both looking to add another bracelet to their collections.
Players to leave this event without any return on their investments on Day 1 included Ole Schemion, Kristen Foxen, Stephen Chidwick, Upeshka De Silva, Chris Da-Silva and Alex Foxen, with Calvin Anderson failing to make a Day 2 also for what seems like the first time this series!
WSOP 2022 Event #81 $5,000 Freezeout NLHE Top 10 Chipcounts:
Mark Davies – 1,127,000
Yuki Kashihara – 829,000
Tony Bracy – 704,000
Johannes Straver – 670,000
Francois Pirault – 614,000
Kitty Kuo – 580,000
Terence Etim – 524,000
Tzu Yen – 510,000
James Romero – 500,000
Javier Carcirreynaldos – 491,000
It may be a slightly dramatic comparison, but Marle Spragg was complimentary – in a way – about players who literally go 'onto the next one' in the aftermath of WSOP defeat.
Dude when people bust super deep and jump in another event it's like they got home from WW1 and the next day enlisted in WW2.

— Marle Spragg (@MarleSpragg) July 14, 2022
Aaron Mermelstein had to admit that a Tweet he posted earlier in the series was wrong.
Welp, I am eating these words https://t.co/NZmuLIPD5k

— aaron mermelstein (@aaronmermelpokr) July 14, 2022
Felipe Ramos had to physically wake up his opponent in the $10k Razz Championship… then wished he hadn't.
Had to literally wake up my opponent after I raised because it was his turn to act in this 10k Razz Championship with 39 players left (21 cash/$329k 1st). Needless to say I lost the hand. True story bro.

— Felipe Mojave Ramos (@FelipeMojave) July 14, 2022
Finally, whoever is in charge of the music at Bally's… we can't help but applaud the bravery of your choice of music!
Stuck thousands of dollars @WSOP with the All I need is a miracle song on basically repeat in the background at ballys is fkn something

— Ronnie Bardah (@RonnieBardah) July 13, 2022
Official photographs courtesy of PokerGO, the home of live-streamed action throughout the 2022 World Series of Poker in Las Vegas.